Best Heavy-Duty Latex Gloves from NM Safety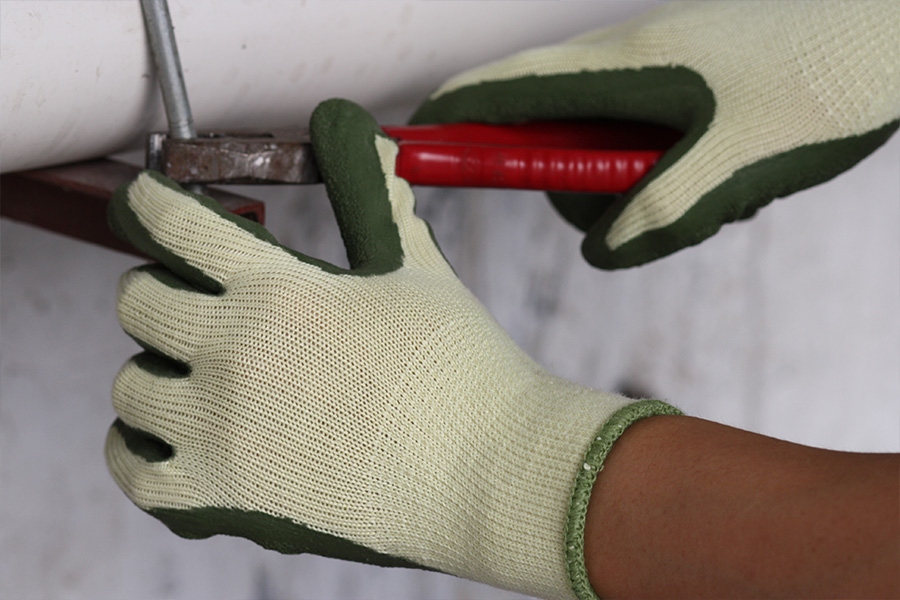 Introduction:
Heavy-duty latex gloves allow you to perform different tasks regarding gardening, electricity, automobiles, kitchen, agriculture, laboratory, and much more as they are not specialized to provide only one type of protection at one time. You can wear them and ideally perform your not-so-heavy duties with them with medium to high resistance against specific harms. For example; You can wear the nitrile coated gloves in the laboratory as they're specialized for infection protection, but you can also use them when you need oil resistance at your workplace too because nitrile is a material that is known for its liquid soaking abilities, so you can also get an improved level of grip using them.
Best Heavy-duty latex gloves:
Polyester Crinkle Latex Gloves:
these latex crinkle gloves are the most potent yet functional gloves with creases or wrinkles on the surface designed to channel fluids away from dry or wet surfaces, allowing for better contact. Latex is a natural rubber that is flexible, robust, and durable due to its high resistance to snagging, puncture, and abrasion. The knit polyester or cotton cover makes them more comfortable and flexible. Ideal for gritty parts and materials handling and cleanup, demolition, masonry and tile, metal fastening, and construction. These heavy-duty latexes are thicker and more durable than ordinary exam gloves, providing extra protection in potentially dangerous conditions.
Read more: Buy heavy duty latex gloves at Reasonable Price
Thermal Latex Gloves:
As the term suggests, these latex gloves are highly resistant against cold temperatures and weather wicking but also waterproof, making them ideal for working in subzero temperatures. Thanks to its 15 gauge nylon and seven gauge terry acrylic knitted liner, the first layer of smooth latex is entirely coated. The second layer of sandy latex is palm-covered, making them comfy and breathable because the acrylic makes them extremely warm from the inside. In contrast, the first layer of latex is responsible for adding breathability and maneuverability, while the second layer is responsible for introducing grip.
Sandy Latex gloves
Sandy foam finish of these Latex Grip Gloves provides next-level comfort and cut resistance. It also has a nylon or latex covering that is extremely pleasant and eliminates hand fatigue. Flexible all-purpose glove for work that necessitates cut protection, such as dismantling or handling of sharp sheet metal or glass. These sandy latex-coated gloves with cut protection level C are best for grip and durability.
Nylon Latex gloves
Nylon is a fabric that can stretch beyond its limits without losing its structure because it has a remarkable elastic recovery. Furthermore, nylon is UV resistant, making it an excellent choice for sportswear. Nylon fibers are robust and abrasion-resistant, making them suitable for any sport.
Best Heavy-Duty Latex Gloves also available as a Anti-Bacterial Latex Gloves:
Heavy-duty latex gloves protect items and screens from exposure to filthy hands and reduce the danger of transmission of diseases. These could indeed aid prevent contamination from liquids and pathogens, as well as blisters from dangerous substances and environmental wear and tear. Nitrile gloves are much less suited to palms and far less convenient than latex gloves due to their unnatural composition. They can withstand severe acids and laceration, but microbial protection is limited. Healthcare professionals often use these gloves to perform such surgeries that require grip.
Powdered latex gloves
Thanks to their lightweight construction and skin-like feel, latex gloves, although highly flexible, can be subject to tearing if put on without due care. Powdered latex gloves were first developed to assist in the donning and removal of gloves by reducing the friction between hand and glove. The thin powder coating on powdered latex gloves helps hands slide smoothly in and out of the gloves and also aids in reducing perspiration – thus reducing moisture within the glove. Many workplaces prefer powdered gloves, as lower moisture levels within the glove help maintain a firmer grip.
Although there are drawbacks to using powdered latex gloves (more about that later), their ease of donning and the enhanced grip they offer to make them a preferred option in many workplaces, they can be the ideal glove solution in many fields, including:

Cleaning and janitorial work
General assembly
Local authority work
Painting and decorating
Printing
Powder-free latex gloves
Although powdered latex gloves are a very comfortable, durable, and versatile safety glove solution for many workplaces, they have several drawbacks. The most significant of these is their potential to spread airborne latex particles, which can lead to allergic reactions in those who suffer from Type I sensitivity (latex allergy). Another factor contributing to the gradual removal of powdered latex gloves is the potential contamination of surfaces and materials due to escaped powder particles. We've developed our latex glove range to eliminate these risks by including low-protein and powder-free options.
Unlike their powdered counterparts, powder-free latex gloves are not coated with a fine layer of cornstarch. To help overcome the concern of easy donning and removal, our manufacturing processes include a chlorination procedure that reduces the latex's tackiness, thus decreasing the risk of tearing. Furthermore, our low-protein latex formulation significantly reduces the risk of the transfer of latex protein particles to skin and airways, thus making them safer to use.
Our powder-free latex gloves are commonly found in the following applications, as well as many others:

Care homework
Janitorial and cleaning roles
Dentistry and dental hygiene
Food processing
General assembly and manufacturing
Painting and decorating
Emergency services
Smooth latex gloves
Heavy-duty latex gloves are impervious to snags, scratches, cuts, punctures, and toxins. Nitrile-coated work gloves prevent employees from the pain of cold weather. They also give extra safety from wounds, scratches, and poisons. Latex products are free of rubber and chemicals.
Conclusion:
Our heavy-duty latex gloves are unique, and advanced manufacturing processes ensure that they are not only incredibly comfortable, durable, and suitable for a wide variety of applications but also better for your workers.
No matter your application, where latex is your preferred safety glove material, we've got the perfect latex glove solution for you.