Buy Nitrile Heavy Duty Gloves – Perfect for Hand Safety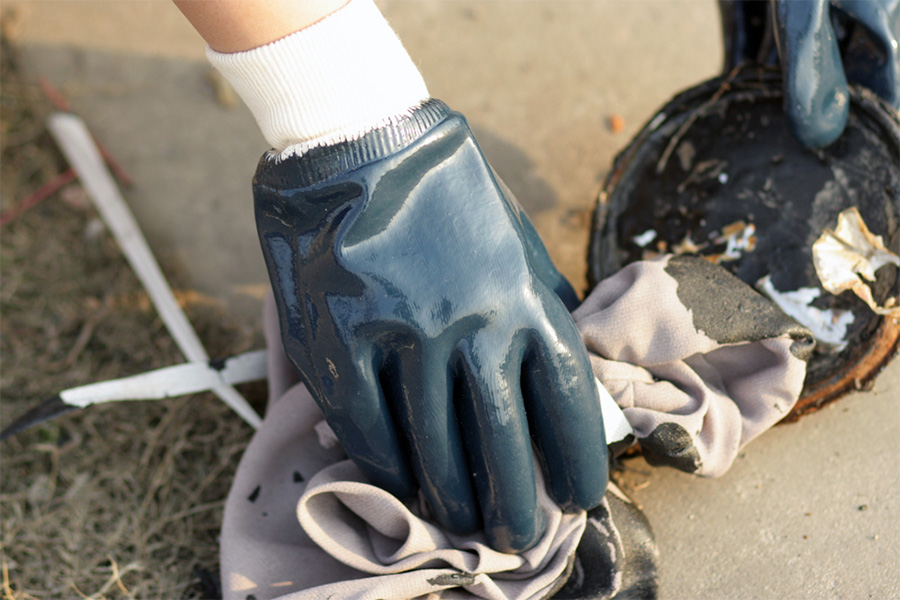 Introduction:
Our today's article covers everything about Nitrile Heavy Duty Gloves.
Cut Resistant A6/F Nitrile Coated Gloves:
These play a role in keeping the wearer's palm and knuckles against moderately severe cut hazards, such as those found in regular industrial work, metal handling, manufacturing, and dealing glassware on moderate to high levels. These anti-cut gloves incorporate the best grip that no other glove can offer as we have used sandy nitrile, making them oil-proof and suitable for wet conditions.
Types of Coating Gloves:
Flat Nitrile:
Gloves with a flat nitrile coating are sturdy and resilient. They are resistant to wear and puncture. They can withstand oil, grease, and liquids but are less skillful, making them unsuitable for small, precise assembly work.
Polyurethane (PU):
Polyurethane (PU) is considered the best coating for cut-resistant gloves due to its flexible and stretchy qualities. These gloves provide exceptional puncture protection without being overly bulky.
Because PU is resilient and flexible, it's ideal for general sharp handling and assembly in many industries, including manufacturing, aerospace, and precision assembly.
Latex:
While compared to other glove coatings, latex has a lot of elasticity and grip. It is particularly true of crinkle latex, which provides excellent grip, abrasion, and puncture resistance. Latex is a long-lasting material used in many industries, including construction, metal manufacturing, utilities, and waste management.
Vinyl Gloves:
PVC, a petroleum-based film, is used to make vinyl gloves. The main advantage of Vinyl disposable gloves is their low cost of production. However, they are less durable than latex and nitrile, and they provide minimal protection from chemical and biological exposure.
Best Practice To Use Cut Resistant A6/F Nitrile Coated Gloves:
Prevention Of Piercing Of Pointed Objects:
Though these cut-resistant gloves are exceptionally robust, needles cannot penetrate them. This is due to nitrile coating, which offers all of its benefits, such as being ultra dexterous, lightweight, and easy to work with.
Handling Rebar:
Cut-resistant gloves are an excellent alternative for preventing injuries and lacerations from forceful hits. It's convenient for employees to knock their knuckles or cut their fingers while working with rebar, whether twisting, molding, collecting, or dodging it to lay concrete.
Water Repellent:
Nitrile is resistant to various drugs, solvents, and substances, rendering it waterproof, hydraulic fluid, and oil-proof. The nitrile protects the wearer's hands against pathogens and prevents them from hurting whatever they interact with them.
Metal Fabrication:
Various processes, such as bouncing, twisting, shaping, welding, tapping, and piercing metal, may benefit from force control and cut prevention.
Qualities of Cut Resistant A6/F Nitrile Gloves:
Fine Motor Skills:
These gloves are suitable to provide fine motor skills wherever you're handling slippery objects. It will allow you to perform your task with agility and tactfully wherever grip is an issue. Using these gloves can minimize the risk of slipping.
Why Nitrile heavy-duty glove is a Valid Choice for Cut Resistance?
Indeed, nitrile is highly versatile, and work gloves with a rich layer of nitrile coating are more robust to corrosive solvents and are more resistant to scratches and cuts. This is why nitrile is known as the "horsepower" of the glove industry since it provides large-scale protection while allowing fine motor skills and multitasking. You can use them not only for industrial purposes but also for any situation where contamination, damage, or moisture resistance are a problem. All forms of protective work gloves will, on average, protect you against burns, bruises, and light chemical exposure.
Buying Guide:
Cut Level:
If your job requires protection from flames, scrapes, fluids, and other hazards, the cut level is an important consideration when purchasing gloves.
Durable Material Coating:
Specific material handling jobs frequently necessitate coated fabrics, making gloves an ideal PPE tool. In this regard, sandy nitrile is anti-slip and boosts glove durability by ten times over uncoated gloves, allowing you to complete your tasks accurately.
Fitting:
Your PPE should fit rightly according to the contour of your hand. The anti-cut gloves should be made of flexible material to make them adjustable enough that they should adopt the exact shape of your hand.
Ease Of Handling Oily Objects:
To make them oil-proof, their palms are coated with sandy nitrile, making them perfect for protection against abrasions while improving their durability, longevity, and grip.
Read more: Heavy Duty Winter Gloves Worth buying
The Best Of Our Cut Resistant Gloves:
Cut Resistant A6/F Sleeve with Thumbhole:
These sleeves are incomparable to use as PPE in warehouses because of the A6 cut resistance level they provide, and the materials like 13 gauge polyester & spandex & HPPE & Steel fiber & Aramid fiber knitted sleeve with which it is made are enough to protect you against many severe risks where it is impossible to keep your limb safe.
18 Gauge Cut Resistant A4/D Nitrile Coated Gloves Thumb Reinforce:
These gloves have all the features that allow you to handle different materials with a better sense of safety. They have an A4/D cut level required to gain protection at a specific but slightly moderate level. These gloves have nitrile coating, which ensures durability and flexibility in them. They are thinner, meaning they don't burden your hand, so hand muscle fatigue is not a risk using them. All in all, these heavy duty nitrile gloves are comfortable and ideal for maintaining grip and working efficiently.
Final Words:
You've now discovered why wearing these heavy duty nitrile gloves is crucial and the extent to which they can safeguard you. We fully believe that 'Tuneful prevention is better than cure slogans list,' so buy your gloves today, as they are accessible in a wide variety everywhere in the market or online. Suppose you want premium materials that give specific protection. In that case, we recommend purchasing your gloves from NMSafety, as they are the only trusted vendor who never fails to impress with their quality.