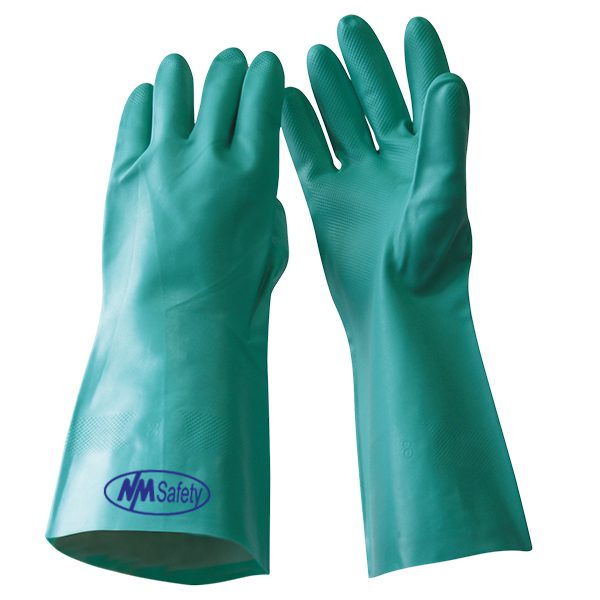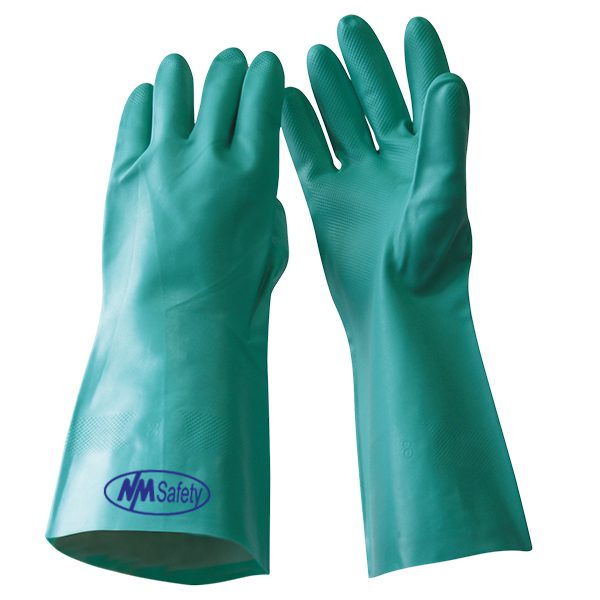 REQUEST A QUOTE
What are the Advantages of Green Nitrile Gloves: There are several different types of Chemical resistant gloves, but the most common is nitrile. Learn about the advantages of nitrile gloves in this article. Are you looking for the best disposable glove to use for your job? Latex has always been the preferred material for medical workers when it comes to disposable Chemical resistant gloves. That's going to change, though! New materials that are up to 95% stronger and safer have recently become popular. Though health doctors, tattooists, and mechanics have previously expressed a strong preference for latex gloves, the risk of latex allergies and the lack of chemical protection they provided left much to be desired. Rubber technology has been pushed to develop new synthetic compounds as a result of these shortcomings. Rubber technology has been motivated to produce new synthetic compounds that surpass latex as a result of these limitations. One of the more promising of these competitors is nitrile!
What is it about Green Nitrile Gloves that makes them so special?: Nitrile, also called as Acrylonitrile-Butadiene rubber, is a synthetic rubber that has been used for disposable Chemical resistant gloves since the mid-to-late 1990s. Because of their high puncture resistance, these gloves were initially targeted at medical workers, with a special emphasis on dentists. Nitrile is three times more puncture resistant than latex, reducing contamination and preventing accidents. Because of the higher chemical resistance of Green Nitrile Gloves, mechanics, tattoo artists, and many other industrial employees have begun to utilize them. Solvents, oils, greases, and even some acids and bases will not harm your hands if you use nitrile gloves. In a nutshell, professionals all around the world began utilizing nitrile gloves due to their:
Puncture resistance is high.
Allergic Reaction Rates are low
Exceptional Heat Resistance
Chemical resistance is excellent.
Affordability
Puncture and chemical resistance are exceptional: In your line of business, do you have to be concerned about diseases and chemical contamination? If that's the case, nitrile gloves are once again the best option. Due to the significant risk of punctures and contamination in both fields, these gloves have become a favorite of medical professionals (particularly dentists) and tattoo artists all over the world. Nitrile is three times stronger than latex when it comes to defending you from needles and other sharp items. Another significant advantage of nitrile is that when it is punctured, the material tears, indicating that the glove should be changed right away. Because the elastic texture of latex gloves can conceal a puncture, the risk of contamination can increase if the gloves aren't changed right away. Mechanics and other professionals who work with harsh chemicals, oils, and greases prefer nitrile gloves because of their long durability and safety. Nitrile, after all, is far more chemically resistant than latex or vinyl.
Great  Water and Temperature Resistance: Nitrile, like latex and vinyl, is a waterproof material, so you don't have to worry about your gloves getting wet and weakening as you work. Nitrile gloves can be worn under work gloves to make your hands waterproof at any time. Nitrile can tolerate temperatures ranging from 40 to 108 degrees Celsius (40 to 226 degrees Fahrenheit), making it perfect for jobs that require you to touch hot or cold surfaces. This is why Green Nitrile Gloves are far and away from the favored choice in many industries, as they protect from sudden heat or cold without melting or becoming brittle.
Cost-effective and long-lasting: Because you'll be wearing numerous pairs of Chemical resistant gloves each month, the cost is a major consideration. Nitrile was once more expensive than latex when it was initially invented, but prices have now decreased to the point that it is now the preferred material. Green Nitrile Gloves are not only cheaper to purchase, but they also endure longer. Despite being disposable gloves, the nitrile's resilience allows them to be reused if necessary. Furthermore, because nitrile has a long shelf life, your gloves will be safe to use even if you buy them in bulk. Purchasing your gloves in bulk can save you even more money, so it's a win-win situation.
Nitrile vs Latex: The most significant benefit of latex is its comfort. Even though nitrile has come a long way since its introduction, latex gloves are still much comfier than nitrile gloves.
Nitrile, on the other hand, is
Puncture resistance is up to three times that of rubber.
Because it does not induce latex allergies, it is a safer alternative to latex.
Chemical resistance is improved.
Finally, it's no wonder that Green Nitrile Gloves have steadily gained popularity as the preferred disposable glove among medical professionals, tattoo artists, mechanics, industrial workers, and others around the world.
Nitrile disposable gloves have a variety of uses: Chemically resistant, highly robust, and designed for comfort, the whole line of nitrile disposable gloves is available. Their silicone-free recipe was created in response to the growing need for silicone-free workplaces, particularly in the manufacturing, painting, and automotive industries. Our Nitrile gloves are the appropriate glove for working settings that demand increased resilience and longevity without sacrificing worker comfort or safety. As a result, they can be used in a wide range of industrial applications, including
Automotive: Our Green Nitrile Gloves are robust, and comfortable, protecting automotive workers from brake fluid, battery acid, oils, grease, abrasive materials, and more while being comfortable to wear. In oily and damp situations, the textured palms and fingertips improve grip.
Chemical resistance: Sulphuric acid, hydrogen peroxide, acetic acid, gasoline, lubricants, and other chemicals often encountered in industrial areas are resistant to nitrile disposable gloves.
Cleaning: Shield cleaners' hands from some of the potentially toxic chemicals used in both residential and industrial cleaning applications, reducing the possibility of cross-contamination and risk to the general public, including patients in healthcare settings.
Conclusion: Finally, it's no wonder that Nitrile gloves have steadily gained popularity as the preferred disposable glove among medical professionals, tattoo artists, mechanics, industrial workers, and others around the world. NMSafety provides you with the best Green Nitrile Gloves in the market with the best qualities.